Contact Us
p: 425.483.9090
f: 425.486.5656
sales@formostfuji.com partsdept@formostfuji.com
Horizontal bagging machines from Formost Fuji start with quality and end with reliability. Our easy-to-operate horizontal baggers are hygienic and built to last.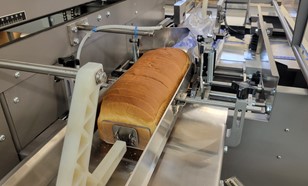 Formost Fuji's in-house engineering and manufacturing teams build flow bagging machines that are designed to meet your unique packaging needs. When your new machine arrives at your facility, our field service technicians are available for installation, set-up, and training.
Available in standard, high-speed, and dual-lane options, our bread baggers and flow wrappers ensure gentle product handling and flexibility for packaging various product sizes and types.
We have several horizontal bagger machines to meet your needs.

Ideal Markets for Horizontal Bagging Machines and Bread Baggers
We can help you decide what automatic bread bagging machine and flow wrappers best suit your needs, including sanitary concerns and floor plan restrictions. Horizontal bagging machines are ideal for many applications, including:
Horizontal Baggers Feature Quality, Reliable Design
Formost Fuji's horizontal bagging machines are built with reliability using proven technology. Our GTS, FFB, and Dual Lane Baggers come equipped with standard features that help optimize your packaging line, including:
Positive product control for accurate packaging

Single or dual-lane options to accommodate a wide variety of applications

Gentle product handling ensures product quality

Reliable, high-speed design to optimize production

Easy cleaning and maintenance ensure sanitary and hygienic conditions