Contact Us
p: 425.483.9090
f: 425.486.5656
sales@formostfuji.com partsdept@formostfuji.com
Reach out to us to watch the video showing the removal of the center and end seal units from the Alpha 8 Sanitary Design Wrapper
Formost Fuji's horizontal flow wrap machines are built with reliability using proven technology.  Our sanitary flow wrappers come equipped with standard features that help optimize your packaging line, including:
Servo motors and timing belt mechanism that reduces maintenance costs

Sophisticated electronic diagnostic tools for maintenance and repair

User-friendly HMI touch panel operation

Sanitary design options that meet regulatory requirements
The new redesigned Alpha 8 sanitary wrapper has the ability to be disassembled,leaving the wrapper wide open for inspection, cleaning and maintenance.  The sections of the wrapper that can be removed are the Center Fin Seal Assembly and the End Seal Assembly.   These are secured on custom built rolling carts during the cleaning process.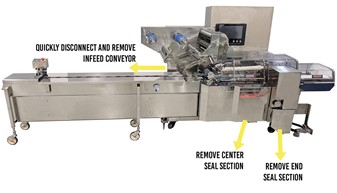 The Alpha 8 Sanitary Flow Wrapper offers a quick, tool free disconnect of the conveyor from the wrapper, complete disassembly, and connection to a standalone drive/mounting station for cleaning the infeed conveyor chain (optional) allows for complete sanitation throughout the conveyor.
---
---
Formost Fuji's Sanitary Design Conveyor is known for its quick and easy tool free disassembly, allowing for thorough sanitation and complete visual inspection. Following strict design principals, this design reduces harborage and provides for better runoff.
The new Formost Fuji Alpha 8 Box Motion Sanitary Wrapper provides a high quality, tight seal, for difficult to seal films, while allowing for the machine to be disassembled for thorough sanitation and maintenance.  The box motion model offers a smooth transfer of product into the end seal unit, which utilizes a "flying knife" for an easily adjustable and quiet operation.  This system also allows for taller products and longer dwell times, and additional seal pressure when needed.  The discharge conveyor has a "slide mechanism" that allows for easy access to the end seal area for maintenance and sanitation.  Quick and tool free disconnect, and complete disassembly of the infeed allows for thorough sanitation throughout the conveyor.